Top 8 Free Speech Hosting Providers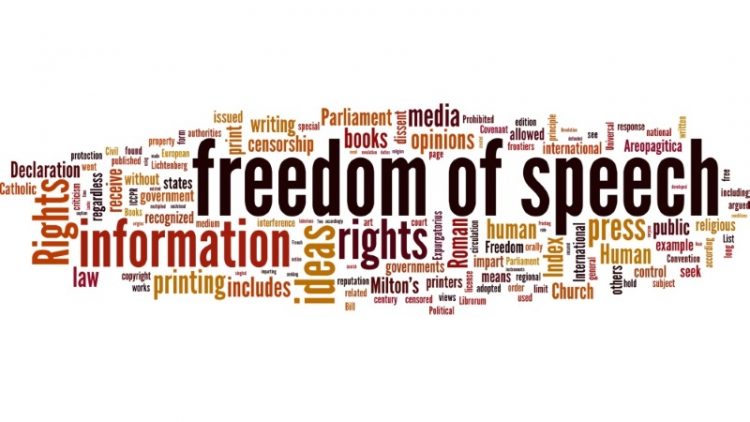 Over the last decade, the Freedom House organization has observed that there were 63 countries (32% of all countries) where freedom of speech is virtually nonexistent. 64 countries (33$ of all countries) only had partial freedom of speech. Coming from a free country, I know that partial freedom of speech is not freedom of speech, since 'freedom' implies total right to speak your mind.
Considering that we live in the 21st century, it's hard to believe that 65% of the countries do not support free speech. It's appalling, really. Luckily there is the Internet, and the option to have your identity privatized by your host.
That way, you're able to share information on the Internet without censorship and not having to worry about any consequences. Freedom of speech is a basic human right. Never forget that.
This is how it works:
While there are restrictions on free speech in your country, there are a substantial number of countries that do have freedom of speech. If you host your information with a hosting provider that operates in one of those free countries, you're safe. This is because the hosting provider abides to the regulations of their country, and not that of yours. If they receive a takedown or full identity disclosure, they have the right to ignore it, because their law is different. Your information will thus never will be taken down.
These type of hosting providers are called 'offshore hosting providers'.
So if you wish to speak your mind about a political party in your country, you can do that via an offshore hosting provider.
Countries with the most freedom of speech:
According to the Press Freedom Index, these are the 10 most free countries in the world in 2016:
10. Sweden
9. New Zealand
8. Iceland
7. Denmark
6. Liechtenstein
5. Andorra
4. Luxembourg
3. Norway
2. Netherlands
1. Finland
So when you pick an offshore hosting provider, make sure the offshore hosting provider is established and operating from one of these countries.
Since we've got quite a bit of experience in the offshore hosting niche, we've gone ahead and compiled the 8 best free speech hosting providers.
# 8. IcyEvolution.com

IcyEvolution is based in Mauritius and is operating since 1995. They specialize in anonymous hosting solutions and have since then expanded to 7 countries, including Hong Kong, Singapore, Malaysia, India, USA, China and Singapore.
Shared hosting:
Their anonymous shared hosting plans start from $9.95/month and you get 500MB total web space, 5GB bandwidth.
Dedicated servers:
Their servers start from $249/month (+ $199) and they come with 2GB, 250GB HDD, and Pentium processor.
Final remarks:
Good for when you want to be anonymous regardless of the cost.
# 7. AnonymousSpeech.com

AnonymousSpeech has its headquarters located in Switzerland with servers in Asia. As you can already tell by the name, they specialize in offering anonymous speech. Their primary service is an anonymous mail provider. While their hosting packages are quite expensive, starting from $34/month, they offer other services, like anonymous VPNs and anonymous file sharing applications.
Remarks:
They've been operating since 1996, and they're probably the most specialized when it comes to freedom of speech. Be ready to pay a lot though.
Also, your anonymity to them is questionable, since they accept bank transfer, and not Bitcoin. It's possible they release your details if an organization pressures them enough. This is why AnonymousSpeech.com is positioned at number 7.
# 6. NearlyFreeSpeech.net

NearlyFreeSpeech is an American-based hosting company that was established in 2002. They allow pretty much anything that doesn't violate the laws of the United States. This means that content which violates DMCA is not allowed. However, they won't suspend your account if you hosting that might be considered by some as 'offensive'.
So if you wish to criticize your government, you can do so on this host.
Remarks:
They use an interesting pay as you grow pricing model. The base rate costs $0.30/month. If you're a new user, you pay around $7.50 per gigabyte of bandwidth that you use. You also pay $1.00 for every gigabyte of storage that you use. On top of that, you pay $0.01 per 17.22 RAUs (CPU resources).
All put together, it can come out quite expensive if you start getting traffic, but at least you pay exactly what you get.
# 5. OrangeWebsite.com

OrangeWebsite.com was established in Reykjavik, Iceland in 2009. As you've probably seen in the list above, Iceland is the 8th most liberal country when it comes to freedom of speech. And OrangeWebsite takes full advantage of that.
They are against NSA spying, accept Bitcoin, and proud themselves to be a free speech hosting provider. They
Shared hosting:
Their smallest shared hosting plan costs €3.40/month ($3.85) and it gets you 1GB of web space and 100GB of monthly traffic. You can only host one website on this, and 3 sub domains.
VPS:
Their virtual servers start from €29.90/month ($34.00) and it gets you only 512MB. You can get an offshore VPS with 512MB for less than $5.00/month somewhere else.
Dedicated servers:
Their dedicated servers start from €199.00/month ($225) and 4GB and 500GB of disk space.
Final remarks:
Regardless of the price, if you buy OrangeWebsite, you know you will get quality.
# 4. LegionHoster.com

LegionHoster.com, an Indian offshore hosting provider, was established in 2015. They resell their hosting from USA, Canada, France, Russia, and the Netherlands. They brand themselves as a cheap offshore hosting provider, and that's exactly what they are.
Shared hosting:
Their offshore web hosting starts from just $1.99/month and it comes with 12GB disk space, 120GB bandwidth and 5 domains.
VPS:
Their VPS's in the Netherlands start from $13.99 and it gets you 2GB RAM, 20GB SSD, and 1TB of bandwidth.
Dedicated servers:
Their dedicated servers start from $30.99 and your receive 8GB RAM, 2 core, 200GB disk space, 10TB bandwidth and a Intel Xeon E5 1620 processor.
Final remarks:
As you can see, their prices are good, but before you buy from them, just know that they are resellers of another hosting provider. When push comes to shove, LegionHoster won't have any decision power about what's allowed on their servers.
# 3. Cinipac.com

Cinipac.com do not reveal much about themselves. All we know is that their servers are in Romania, that they ignore DMCA, and that they have DDoS protection. They offer shared hosting, VPS solutions, and dedicated servers.
Shared hosting:
Their shared hosting starts from €2.80/month ($3.20) and comes with 1GB of webspace, and unmetered traffic. While the disk space is on the low side, the unmetered traffic is definitely worth it if you get decent traffic already.
VPS:
Their Romanian VPS's start from €9.00/month ($10.20) and you get 1GB RAM, 1 core CPU, 20GB HDD, and unmetered traffic.
Dedicated servers:
Their dedicated servers start from €115.00/month ($130) and you get E3-1240 3.30Ghz processor, 8GB RAM, 2x(2TB) SATA and 10TB traffic.
Final remarks:
All well-priced, but the negative reviews make their service questionable.
# 2. CCIHosting.com

CCiHosting.com was established in Panama in 2002. It's popularly known for their total privacy laws. Since they only abide to Panamanian laws, all their clients have the right to total privacy. They are also full supporters of free speech. They accept Bitcoin, and offer a wide selection of offshore hosting solutions, which includes domains, shared hosting, VPS's, and dedicated servers.
Domains:
Their .com domains cost $25.00 while the normal retail price is around $10.
Shared hosting:
Their shared hosting packages cost $6.00/month and you get 2 websites, 15GB disk space, and 50GB of bandwidth.
VPS:
Their VPS's cost $15/month first month (then $25/month) and it comes with 1GB RAM, 1 core, and 40GB of storage.
Dedicated servers:
Their cheapest dedicated server costs $99.00 (+ 40% discount off for first month) and you get Dual Intel Core, 2GB RAM, 160GB HDD, and 1TB of transfer. Not worth it.
Final remarks:
A little bit on the pricey side, but they make up for it with quality.
# 1. AbeloHost.com

AbeloHost was established in the Netherlands (#2 on the Press Freedom Index) in 2012. They virtually allow anything on their servers, as long as it is not illegal in their country. This means that they allow DMCA-sensitive content, as well as any type of content that might be considered offensive.
Domains:
Their offshore domains are priced as regular domains. A .com goes for $12.90.
Shared hosting:
AbeloHost offers two types of shared hosting: cheap hosting, starting at just $13.55/year and SSD shared hosting, starting at $4.50/month. The cheapest hosting comes with 35GB of bandwidth, 5GB of disk space, unlimited subdomains, unlimited domains and unlimited MySQL databases. Their cheapest SSD shared hosting comes with 50GB bandwidth, 10GB SSD, 5 subdomains, 5 addon domains, and 10 MySQL databases.
VPS:
Their KVM SSD VPS plans start at €9.99 ($11.06) with 1GB RAM memory, 15GB SSD, unmetered traffic with 100Mbps guaranteed.
Dedicated servers:
Their dedicated servers start from €46.80/month and comes with a Intel Atom D525 DualCore processor, 2GB, 2 x 128GB SSD, and 100Mbps guaranteed.
Final remarks:
AbeloHost has affordable prices with very good reviews on the Internet.
And there it is: top 8 best free speech web hosting providers.